Roman Oleh Yaworsky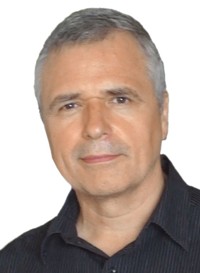 Roman Oleh Yaworsky is a life and business coach, consultant, speaker and educator that draws on his years of experience in the creative, consulting and coaching fields. In the last few years, he has created innovative and original workshops to help individuals and corporations to move towards their greater potential.

Roman's latest book: Being Centered, is a practical and innovative guide to reconnecting to one's core, will and power. The book identifies both the obstacles and the opportunities for growth, within an insightful and novel context. Published 2007, SpiritUnleashed, Miami.

In the last ten years he has formulated a means of identifying the interactive resonant patterns within corporations and departments that reveal not only their strengths and challenges, but where the improvements are hiding; where the right effort is most likely to bring success.
Specialties
Lecturer and Motivational Speaker
Roman Oleh Yaworsky is known for an engaging and dynamic personal style. He has a unique ability to establish a heartful and personal relationship with his audience that reaches from a creative core of understanding and experience.
Download Speaker Summary One Sheet
View and Save pdf
Innovative Workshops and Courses for the Healing Community
Roman has created workshops and courses that take students to a deeper understanding and appreciation of the subject. His workshops draw on his very comprehensive background in the sciences, art, healing and spiritual traditions.
A sample of courses created by Roman Oleh Yaworsky:
• The Nature and Influence of the Chakras TM
• Surviving Change TM
• Free Your Destiny: Escape Your Fate TM
• Transforming Times TM
• The CORE Principle TM for Management and Companies
• Freeing Your Heart TM
• Being Centered TM
• Improving the Destiny of Your Relationships TM
• Healing Passages TM

Healing and Alternative Medicine
Healing modalities from yoga and native traditions, including Inca healing of the human energy field, Resonance Repatterning® for individuals and couples, spiritual advising and awakening support.
Roman Oleh Yaworsky has pioneered new approaches to healing and support of clients for their positive growth and transformation. The new approach identifies where and how a client was held back from the full expression of their joy, power and spirit and determines and provides practical means to return to center, balance and full expression.
Roman's background in Energy Medicine and Spiritual Coaching:
• Established in ancient and native healing traditions of the far East and the Americas. Direct clearing, realigning and re-energizing of the chakras and energetic field.
• Holographic Repatterning®, Resonance Repatterning®, Practitioner, Level 1. Detection and removal of disharmonious resonances and emotional patterns.
• Extensive background in meditation and yoga
• Roman's meditation practice began with Tibetan Buddhism in 1967, and extended to Kashmir Shaivism for over three decades. His studies and direct experience have also included western spiritual traditions and the native traditions of the Americas.
Life Coaching
Life Coaching, Life Direction, Goal restructuring, Individual and Couple dynamics assessment and intervention.
Memberships
• Past member, International Association of Counselors and Therapists
• Healing Staff, The Yellow Courtyard, Inclusionary Health Practitioner and Speaker, 2006-08
Recent Publications
Being Centered, a heart focused manual for healing and inner work, 273 pages, Published 2007: SpiritUnleashed™, Miami FL
Education
Medical Illustration, B.Sc. AAM, University of Toronto, Dept. of Medicine
Biochemistry H.B.Sc., University of Western Ontario
Ontario College of Art